Cores/Specialty Perks
Specialization perks work to compliment or accentuate one's build. Most Shinobi have strengths and weaknesses despite being generalists for the most part. So while most may be well rounded, they may excel as a close quarters combatant due to their agile movement, a Ninjutsu specialist due to their high skill in chakra control or a number of other specific roles.

That being said we want to bring that feel to Shinobi Gaiden, having a six stat spread, while it is a great system makes it kind of hard to allocate what you need everywhere, resulting in what we call min/maxing. This is great in theory but often leaves many holes and doesn't really give the complete role-playing experience of Naruto. How do we have a fight like Madara and Hashirama did if both of the fighters have S control and E strength? No variety there, no options besides Player A shoots a jutsu followed by Player B shooting a jutsu until in the end it's just a clash of reserves. We want to expand on every bit of the anime and allow freedom, flexibility, and enjoyable role-play.

There are six speciality perks, one for each stat with each having three tiers. Those in a clan are only allowed two while non-clans are allowed three. The amount of speciality perks you may have and what tier they are depends entirely on your Overall grade which is determined by your Lifetime Progress Points.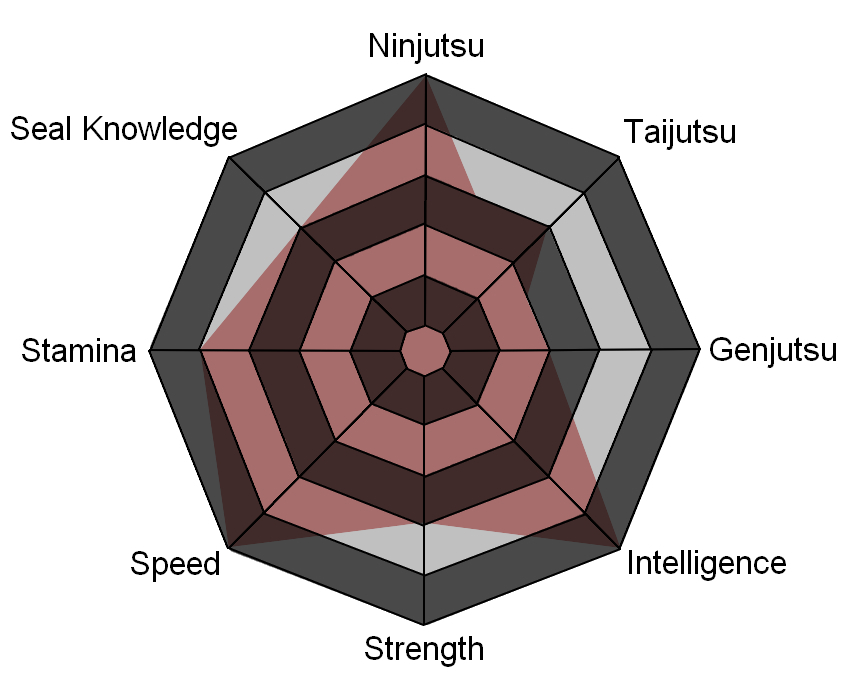 E - 1 T1
D – 2 T1's
C – 1 T2 and 1 T1 (Non-Clan gain an additional T1)
B – 2 T2's (Non-Clan upgrade their additional T1 to T2)
A – 1 T3 and 1 T2 (Non-Clan cap at one T3 and two T2's)

You are considered C rank if you hit C-, so at C- grade you may receive your first T2. This applies to all grades.



Note: The Breakdowns at each rank is the TOTAL number of cores you have, you have 2 at D rank, not 3.



T1s give 4 points, T2s give 8 points, T3s give 12.

There are speciality perks for Strength, Endurance, Agility, Speed, Stamina, and Control. Please choose the ones you desire carefully as there is no swapping out or refunding later. These perks grant you points towards it's respective stat and allow you to surpass the caps in place thus allowing you to "specialize" in your select area of expertise. Each Tier gives a different boost and they do not stack with one another. Anyone caught abusing or trying to abuse this system will be dealt with at Admin's discretion.

Note: When online you can GMhelp and ask an admin to help you sort out your cores.